Penn Pond Waders Golf Society was founded in 1989 by a small group of golfers based at the Red Lion at Penn (just opposite the pond!). The society was formed to create an opportunity for members to play various courses throughout the area and to run a number of competitions with prizes at each event. The society is still thriving and we currently have in the region of 60 members.  We also have a well-supported Ladies Section.
We run an individual championship event throughout the year, by taking the best 4 scores out of 6 events to create the Champion Golfer for that year. There is no pressure to play all 6 if you wish to play just one or two that's fine.
The Waders Tour is also popular, the venue for which is chosen by the captain for the year. Our European Tour event took place in April 2023 when a large party of 'Waders' flew out to Palma, Majorca for 4 nights and 3 rounds of golf, including 1 at the superb Son Gual golf course.
Our annual Prestige Event will take place in early October when we will be heading to Bournemouth for a couple of rounds of great golf at 2 of their finest courses at Ferndown and Broadstone.
The year rounds off on Weds 29th November at Beaconsfield for our annual Captains Charity Day where all proceeds are donated to a charity of the Captains choice. Over the past 4 years, we have raised over £15,000 for Macmillan Cancer Support, Diabetes UK, Chiltern Prostate Support Group, Help for Heroes and Head Wrappers which was a tremendous effort. We would like to thank all our members and guests who have given so generously in support of these great causes.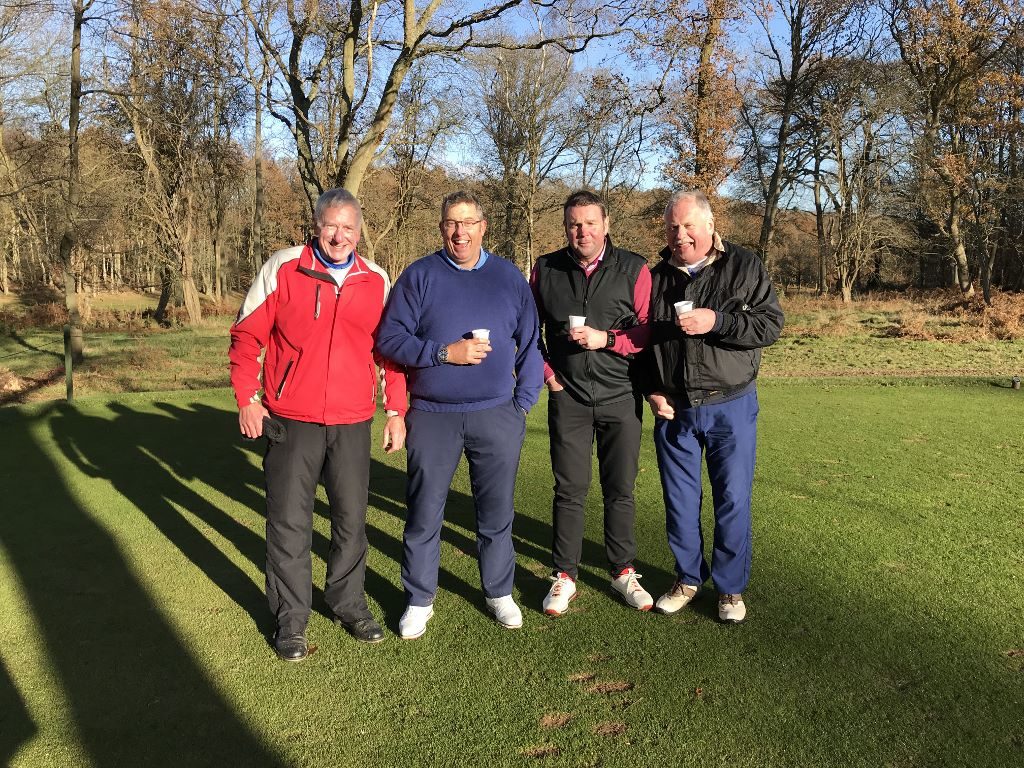 4 of our members enjoying a tipple at the 17th at Ashridge GC.